5 WELLNESS TIPS TO IMPROVE YOUR SLEEP
Sleep is crucial for our overall well-being, affecting every aspect of our lives. Despite this, millions of people suffer from poor sleep, leaving them feeling groggy and drained during the day

Thankfully, there are many things you can do to improve your sleep quality and promote relaxation. In this article, we'll present five wellness tips to help you sleep better and enhance your well-being.
1. Create a relaxing environment
Creating the right sleep environment is key to a good night's rest. Here's how to do it:
– Make sure your room is quiet and dark, with a comfortable temperature for sleeping that should be from 60 to 67 degrees Fahrenheit1 (15 to 19 degrees Celsius). Get blackout blinds or curtains in your bedroom or a blackout sleeping mask.
– Invest in a quality mattress and pillow that suits your sleeping habits.
– Consider using a white noise machine or earplugs to block out any unwanted noise.
– Keep the bedroom for sleep and intimacy only, avoiding any work-related activities.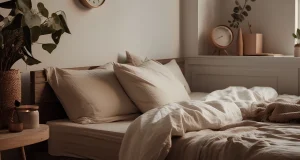 2. Establish a sleep routine
In addition to the environment, some simple adjustments to a daily routine can greatly impact sleep quality.
– Avoid caffeine, alcohol, or nicotine several hours before bedtime.
– Set aside time to unwind with relaxing activities like reading or bathing before bed.
– Incorporate regular physical exercise into your daily routine, avoiding intense workouts late in the day.
– Avoid using screens before bedtime, as blue light can interfere with your body's natural sleep hormone production.
– Stick to a consistent sleep schedule, even on weekends.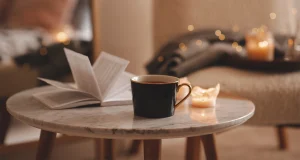 3. Aromatherapy for better sleep
Aromatherapy, as a relaxation technique, was described in our last article, and undoubtedly, it is a powerful technique to promote calmness and ease the mind. Consider these essential oils known for their sleep-inducing properties:
– Lavender oil has a calming scent that promotes relaxation and reduces anxiety.
– Chamomile oil is often used as a natural sedative for its ability to ease tension and calm the mind.
– Ylang-ylang oil has a sweet, floral scent that can help relax the body and soothe the nervous system.
– Bergamot oil is a natural mood stabilizer and has been shown to reduce stress and anxiety.
To use essential oils for better sleep, diffuse them in an essential oil diffuser, apply them topically as a massage oil, or spritz them onto your pillowcase before bed.

4. Sleep routine on the go
Getting quality sleep while traveling can be a challenge, but it's crucial to maintain proper sleep hygiene even when away from home. To ensure you get a good night's rest on your journey, equip yourself with the travel essentials such as a travel blanket, pillows, and eye masks.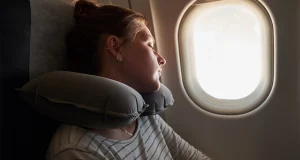 5. Food that promotes better sleep
Several foods can promote better sleep and contain natural sources of relaxation, such as the melatonin hormone. Some examples include:
– Bananas are a natural source of melatonin and serotonin, which can help regulate sleep and mood.
– Almonds contain magnesium, which is known for its ability to promote relaxation and reduce stress.
– Warm milk is a natural source of the amino acid tryptophan, which can promote relaxation and better sleep.
– Herbal teas such as chamomile, valerian root, and lavender can promote relaxation and reduce stress, improving sleep quality.
Overall, consuming a balanced diet rich in tryptophan, magnesium, and melatonin can help promote relaxation, reduce stress, and improve sleep quality.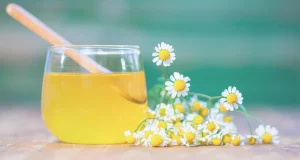 Investing in better sleep is one of the best things you can do for your overall well-being. With these five wellness tips, you can create the right sleep environment, establish a consistent routine, use aromatherapy for relaxation, ensure you're getting quality sleep even when away from home, and include some superfoods in your diet. By prioritizing good sleep, you'll feel more rested, energized, and ready to tackle the day ahead.