UNWIND FROM LONG FLIGHTS: HOW BE RELAX CAN HELP
Summer is here, which means the travel season is in full swing. Whether you're planning a long-haul flight or a shorter trip, taking care of your body during travel is important for feeling your best upon arrival.

published on
June 15, 2023
At Be Relax, we understand the challenges of air travel, and our mission is to ensure that you arrive at your destination feeling rested and relaxed. In this article, let us guide you on every step of the journey, including a stop at Be Relax before taking off.
Unwind Before the Flight
Preparing yourself before the flight is essential for feeling your best during and after travel. To ensure optimal travel comfort:
– Focus on your nutrition – prefer light meals with proteins and vitamins, and avoid heavy meals that can weigh your digestive system and exhaust the much-needed energy.
– Hydrate yourself before, during, and after the journey. It will help you to balance the dry in-flight environment.
– Boost your blood circulation – long flight means long sitting and usually in a limited space. Focus on boosting your blood flow before boarding – do a little exercise, or even better, get a massage before your flight. With our nearly 40 spas around the world, it is easier than ever before!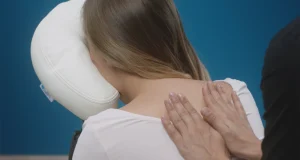 During the Flight
During your flight, staying hydrated and comfortable is paramount. Some tips to consider while traveling include:
– Keep yourself hydrated and avoid drinking alcohol. Even though the free-of-charge spirit in some airlines might be attractive, skip this goodie for a different environment than an airplane. The decreased humidity in the plane, together with alcohol, will dehydrate you and can cause skin irritation and headaches. Instead of that, drink a lot of water.
– Hydrate yourself from outside as well – get the travel minis of refreshing hydrating mist. You can find our picked travel sets here.
– To avoid dry eyes, try PopMask – the heating eye mask miracle now available in Be Relax. The warm sensation never felt so good than on board!
– Last but not least, choose the proper travel equipment. Be Relax has developed a whole range of innovative travel accessories and pillows to ease the journey. A good travel pillow can save you from neck stiffness and soreness. The extra-large travel blanket will keep you comfy and warm. To promote better sleep, get a blackout sleeping mask and a pair of earplugs, and you are fully equipped!
– If you struggle with heavy legs or generally poor leg blood circulation – get our Leg Therapy. The cordless and lightweight powerful massager will take care of your heavy calves.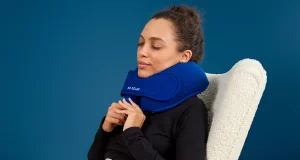 After the Flight
Finally, after you've arrived at your destination, it's important to give your body time to adjust and recover:
– Take some time to rest and include some exercise in your itinerary. It can help boost your blood circulation and reduce stiffness after a long flight.
– Using one of our powerful back massagers, such as the Ultimate Back Therapy, can help with back pain after long sitting. For whole-body relief, grab our Percussion Therapy to release tension in your body.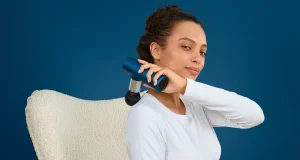 Travel does not have to be challenging. By taking care of your body before, during, and after your flight, you can ensure you feel your best upon arrival. Be Relax is here to assist you in achieving this goal, offering a range of travel accessories and massage therapies to make your journey as comfortable and enjoyable as possible