BE YOURSELF A THERAPIST: SELF-MASSAGE TIPS
Engaging in self-massage post-workout is a pivotal aspect of holistic wellness. This intentional practice goes beyond mere indulgence; it is a proactive step towards nurturing your body and promoting recovery.

published on
November 20, 2023
Self-massage enhances blood circulation, alleviates muscle tension, and expedites the elimination of metabolic byproducts, reducing post-exercise soreness. The rhythmic kneading and pressure applied during self-massage stimulate the release of endorphins, fostering a sense of relaxation and well-being. Embracing this ritual creates a bridge between physical exertion and mindful self-care, ensuring that your fitness journey is not only challenging but also a profoundly rejuvenating experience. Let's explore various self-massage techniques that will refresh and rejuvenate your body.
Neck and Shoulder Massage
Neck and shoulder pain, often exacerbated by poor posture, stress, or physical strain, can be a persistent discomfort for many. To address this, incorporating self-massage into your routine becomes a vital tool for relief.
Step 1
Relax your shoulders, allowing them to descend from your ears.
Step 2
Ensure your neck and back maintain a straight posture and identify any areas of discomfort on your neck.
Step 3
Apply firm pressure with your fingertips to these areas. Begin gently moving your fingers in circular motions, and then repeat the process in the opposite direction.
Step 4
Continue this therapeutic routine for a duration of 3 to 5 minutes.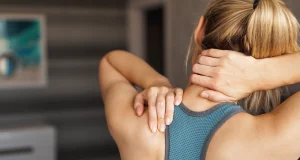 Lower Back Thumb Massage
Regular lower back massage is vital for overall well-being. It relieves accumulated tension, enhances flexibility, and mitigates the risk of chronic pain. A few minutes of self-massage fosters a resilient and rejuvenated body, promoting long-term health and comfort.
Step 1
Begin by sitting on the floor with your legs crossed, establishing a comfortable base, and straightening your back to ensure proper posture and alignment.
Step 2
Position your thumbs on each side of the bone at the spine's base.
Step 3
Initiate small circular motions with your thumbs, moving up and down for a targeted massage.
Step 4
Apply pressure to any tense spots, focusing on areas that require additional attention. Pause briefly, then release and continue the circular thumb movements and pressure application as necessary.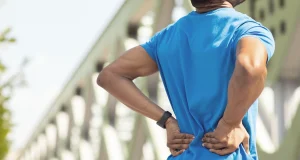 Arms Pinching Massage
Arm muscles may feel strained and exhausted after an intense workout. Self-massage reduces discomfort in the muscles, increases blood flow which contributes to faster recovery.
Step 1
To effectively engage your muscles, start by extending your arm across your chest in a straight line.
Step 2
Pinch your tricep with your other hand while keeping your arm outstretched. Hold for a few seconds.
Step 3
To target various muscle fibers, release your grasp and move your hand lower while repeating the tricep pinching technique.
Step 4
Flip your arm over, repeating the entire process but now focusing on your bicep. Pinch, hold, and release for a comprehensive massage experience.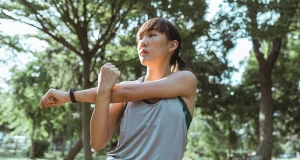 Lower Leg Rolling Massage
A post-workout lower leg self-massage enhances flexibility and joint mobility. The rhythmic motions involved in the massage help release tightness in the muscles and improve their range of motion.
Step 1
Initiate the massage by gently gliding your hands over your leg, providing a warming effect for enhanced muscle responsiveness.
Step 2
Proceed to squeeze your calf muscles using both hands, starting from the ankles and moving upward toward the knees.
Step 3
Place your hands back at the ankles and roll your calf muscles with both hands, progressing from the ankles to the knees.
Step 4
Conclude the massage by pressing both fists into your calf muscles, rolling the fists into the calves, and concluding with a gentle slapping motion.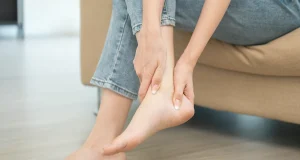 Embracing self-massage as a post-workout ritual is a proactive and indispensable component of holistic wellness. Intentional practice transcends indulgence, acting as a bridge between physical exertion and mindful self-care. By enhancing blood circulation and alleviating muscle tension, self-massage becomes a powerful tool for reducing post-workout soreness.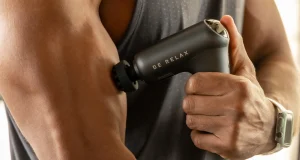 If you're looking for a convenient and high-tech solution, consider the Heat Hit Pro full-body compact massager. For targeted lower leg massage, meet Leg Therapy – your year-round leg companion. Find your favorite product here.